Okay first of all the weather here in arkansas is dreadful. It was like 90 then 30 and then hot then cold. mother nature must be very moody this year. My allergies have been soo messed up. I absolutely can't stand when you get sinus infections and it hurts your jaw...owwiee.
And now we are having flooding and tornados again. I so thought when I moved from florida that my weather channel watching was over... nope! Yesterday I ended up having to drive through flooded roads to get my kids from school. Yikes. I absolutely hate thunder and lightning and the water scares me... My kids are lucky I love em..Poor Kourt was instant messaging me from school telling me she was scared... How could I resist.
Anywho I almost completely forgot about the mousescrappers 2 yr bday festivities. Luckily I remembered them and completed 15 of the 22 challenges..Yeah me!
and then since I was in the mood to scrap, I completed 3 more challenges. I guess it's good. I havent been scrapping lately. So I wanted to share...
I posted my two a-z challenges. I got S...i chose space ships and posted a layout I had done previously.. and Z..I chose Zenon..heehee tells ya how old I am lol
I did the
simon seys challenge
:
May 9, 2011
1. Simon says-Pick as many papers as you can! I would like to see lots of little pieces (any shape) of paper on your layout to get started. This is a party and it's always better to have more! Your background papers and mats count towards this step too.
May 10, 2011
2.
Simon Says-Pick at least one photo that has more than one person in it. If you took a solo or couple trip, pick a photo with people in the background or a picture of a show, random crowds, etc. Use at least three other photos of your choice. If possible, stack them on some of your paper shapes from step one.
May 11, 2011
3.
Simon Says-Hide as many (or more) Mickey heads as you have photos. I want to see him peeking at us from everywhere.
May 12, 2011
4.
Simon Says-Add circle elements to your layout.
May 13, 2011
5.
Simon Says- It's time to title your page. Break out of your normal routine. If you usually use alphas, use a font this time. If you always use word art, don't. If you can, put your title at an angle or vertically on your page.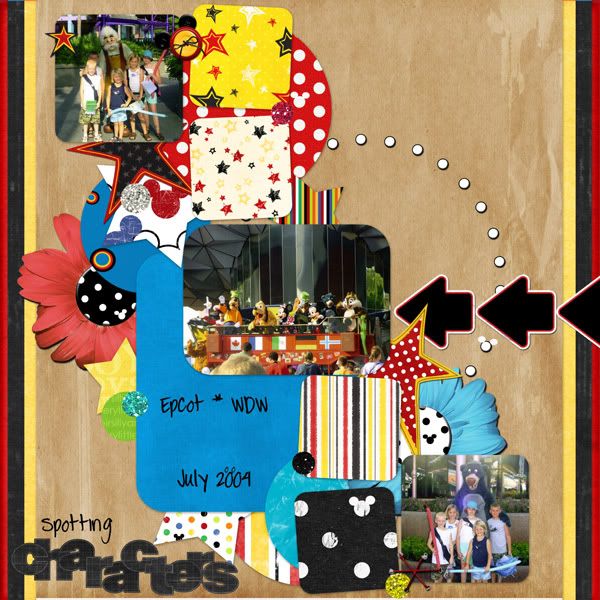 I completed the cake smash challenge

Cake Smash
Just like when you give the baby its own birthday cake and watch it dive in, we're going to smash some LOs.
Go to the gallery and choose two LOs that you love. Then smash them together by scraplifting them onto one LO.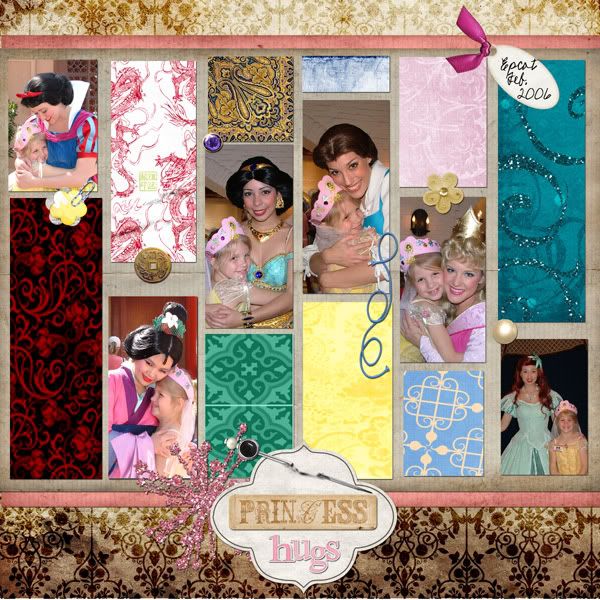 I completed the hopscotch challenge :

In hopscotch you have the numbers 1 through 10, throw a marker onto one of those numbers and skip over it. For our hopscotch you can do the same thing. There will be 10 different things that must be in your layout, however you can "throw your marker" onto one of them and omit it.
Your LO must contain:
one hidden Mickey
two scatters
three ribbons
four frames
five photos
six leaves
seven papers
eight rectangles
nine buttons
ten flowers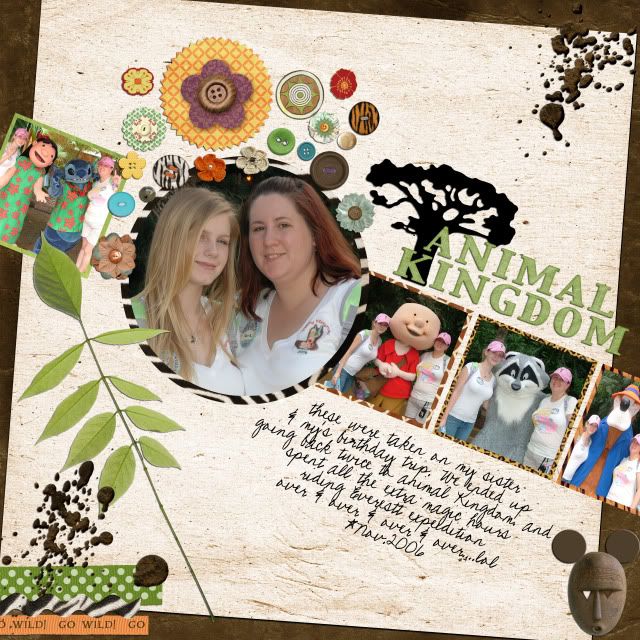 I completed the
bake me a cake
challenge:
For this challenge, you are given a list of "ingredients". Your job is to build a LO using the ingredients.
But we don't all like vanilla cake, some of us like chocolate or confetti cake, right? So we have a few optional ingredients.
The basic recipe (must include):
patterned paper
An odd number of photos
2 different types of ribbons or strings
a title
a pinch of sparkle (some type of bling)
shadows
Optional ingredients (choose 5/11):
Mickey colors (red, black, yellow, white)
flowers
a frame
a doodle
lace or mesh
stars
one of your photos cut in a circle (but you still need to have an odd number of photos)
a hidden Mickey
word art
journaling
date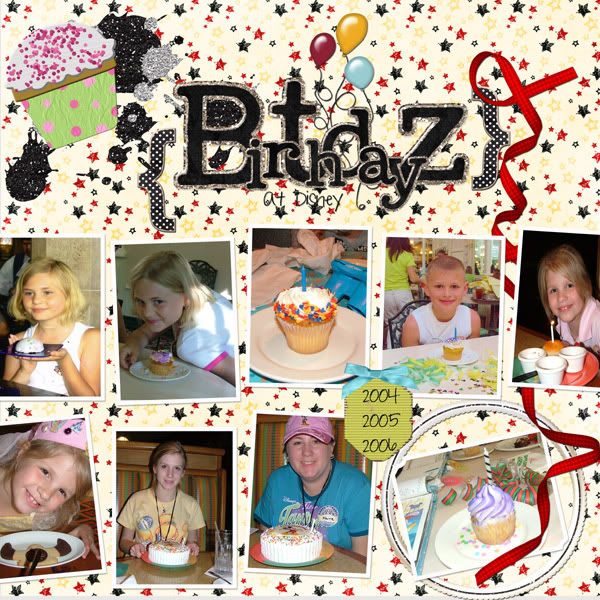 Cake decorating challenge
:
Since we're celebrating a birthday, we've got a cake and we are going to be decorating it. The rules are simple. Decorate the cake however you want to. Go all out, or super-simple, whatever you want your cake to look like. When you are finished, upload it to the
Miscellaneous Challenges, 2nd Anniversary Challenges Gallery
and in this thread, then add the Gallery URL (the direct link, not the image link) to your Tracking post so that you get credit for it towards the big prize. Remember, you need to finish 15 out of the 19 games and challenges in order to earn the big prize. You have until 10 PM Pacific Time on May 22 to complete this game. You won't find an easier challenge -- this one's a piece of cake!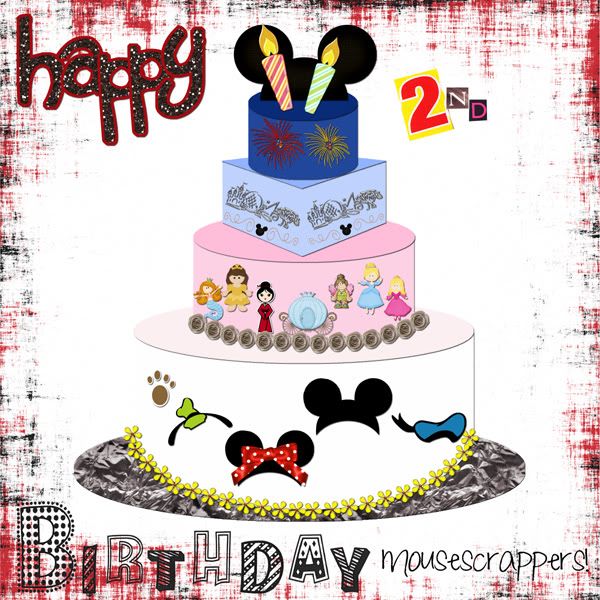 I completed the hide and seek challenge and the scavenger hunt challenge
Speed scrap #60:
INSTRUCTIONS:
1. Let me see 8 different circles throughout your page. These can include elements, photos, paper circles, anything you want. Be creative and make them all different sizes.
2. Let's make it colorful, pick atleast 3 or more BRIGHT colors to incorporate into your layout. But stick with those colors to keep the flow even. Black & white are fine to use.
3. Show me some ribbons layered on top of eachother and tucked behind your photos.
4. Throw some stitches into the mix.
5. Paper strips!
6. Since my PP has to do with journaling, I want to see atleast 4 lines written on your page. If you are one of those who absolutely do NOT like to journal then add atleast a date to your page.
7. Add any other elements you wish and finish up your layout. Upload to Speed Scrap #60 gallery, post in appropriate forum, and in the challenge thread.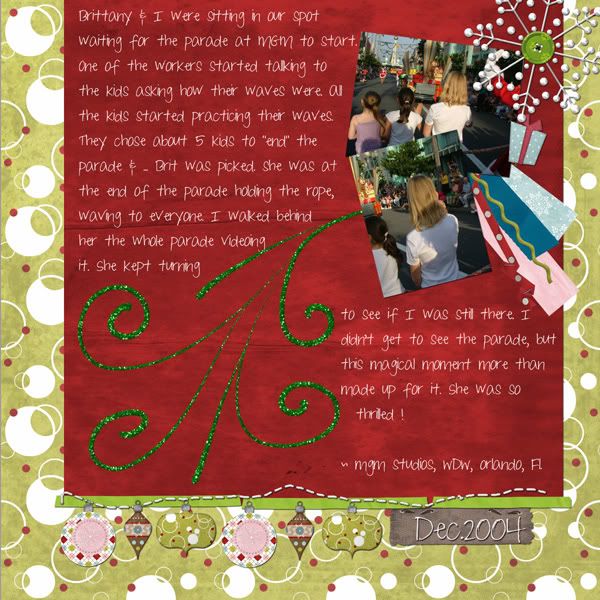 speed scrap #61:
#1. Choose 5 different papers... 3 patterned and two solid.
#2. Choose 2 photos... one must be larger than the other.
#3. Crop a part of one of your photos and repeat it somewhere on your page.
#4 Add a large Title.....make the title become part of the composition...
#5 Add a block of journalling..... at least 5 lines
#6 add a border of some kind.......be creative
#7 Choose at least 5 different elements to add to your page. Repeat one of them at least 6 times throughout you layout.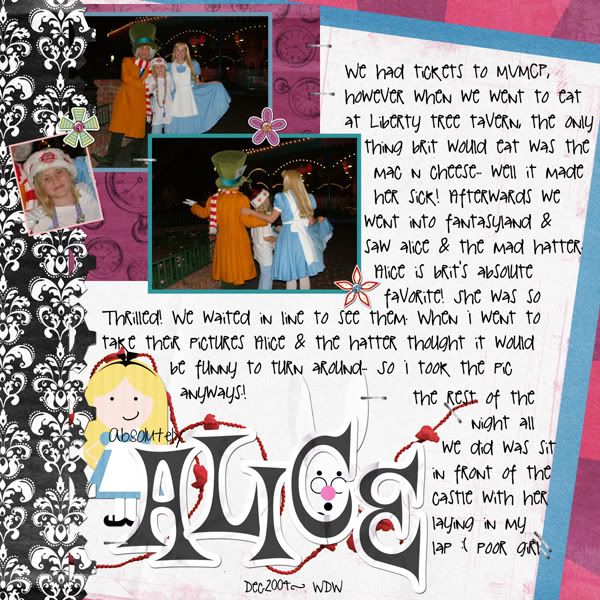 Speed scrap #62:
As you know, Disney is a land of make believe and
fantasy.
So my challenge today for our anniversary is for you to think of
the ONE character you could be if you could be anybody and WHY. (very
important) It can be a person, an animal, or anything in between!
LOL. It can be a super villain or hero, cat, dog, warthog, meerkat,
or um MOUSE!! Go wild and really think about it.
1. After you've made your choice, pick at least 3 papers with the
colors of the character. These should make a good back drop for your
choice.
2. If you have a picture of you or even a loved one with them that
would be perfect! If not, find a picture or drawing, clip art, etc.
You
Can use as many pics as you need to set up your new identity.3. The pictures have to show the following: you, your character,
where you live, your friends and or your family. And your stuff: like
your gloves, shoes, carriage, apple, boiling cauldron, etc.
4. We must have BLING! A spray or scatters would be a nice touch if you can.
5. Use layers either in your papers or pics, embellishments, etc.
6. Journal about why you picked them. At least 3 lines. You can even
talk as if you were the character!
7. Any last touches to make it authentic. An autograph,
embellishments, words to a song, anything to put it over the top.
Really make a case for your choice. Shadow it and call it good.
Leave love out there for your fellow "characters!" Lol. I can't wait
to see who you pick! Above all, be creative and have fun. It's YOUR
dream. Make it come true. Disney always does right?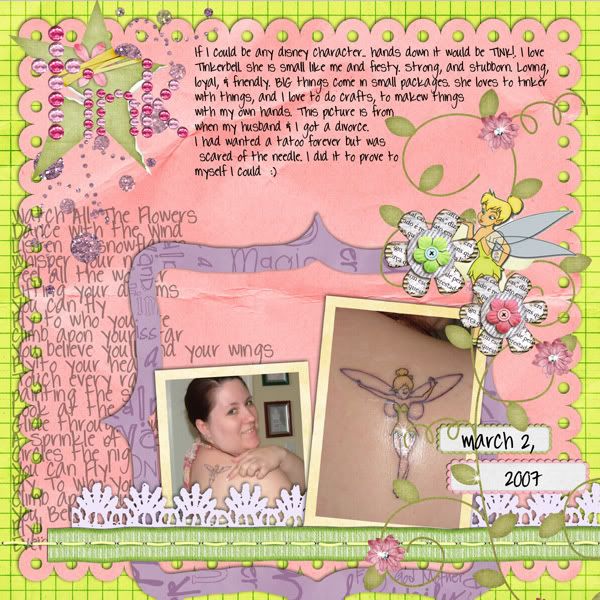 Speed scrap #63
:
1) You need to find some basic information about yourself in the MS site. You need to know the following:
the month, the day and the year you joined, your user name and how many pages of LO's are in your gallery
. You can find this information when you log in. Click on your name next to the word "Welcome" on the upper right part of the page. You can find the date you joined under the "Mini Statistics" section on the right. You will need to write this information down. To see how many pages you have your gallery, stay logged in and go to the gallery tab at the top of the page. Once in the gallery, click on "My Photos" on the left hand side of the page. Look on the blue bar – far right and you will see "Page" and numbers beside it. That is how many pages are in your own personal gallery. Write that number down. I don't think you need help with your use name. You will need the first initial of your user name for the challenge. Ok… that is the hard part. You should have five pieces of information… Month, date, year, User Name and how many pages are in your personal gallery. Now let's get ready to play!!!!
2) The
THEME
of your LO is based on the first initial of your user name. I realize some of you may not have photos that fit your particular theme. You may have never been to WDW only DW. Do you best to follow the correct theme, but I will make exceptions as needed. Here is the list:
3) The
PHOTOS
are based on the number of pages in your gallery. At least one of your photos must meet the requirements. You can use as many photos as you want unless you are a 2 or a 5. Those have a specific number involved. If you have 10 or more pages in your gallery… use the second digit of your number… So 12 pages is doing the same as 2, 15 is doing the same as 5.
4) The
PAPERS
are the month you joined MS. I joined in July, which is the 7th month. If you joined in November, you are doing the same as #1… December is 12… so you are doing the same as #2.
5) The
ELEMENTS
are the date you joined MS. If you joined the 11-31…use the
second digit
of your date. I joined on the 16th… so I am using #6 in my LO. Those who joined on the 6th, 16th or 26th are doing the #6. You can use as many elements as you wish, but make sure you meet the requirement of your mix.
6) Add some journaling or whatever else you need to make your LO work for you
7) This requirement is based on the
year
you joined MS. Everyone either joined 2009, 2010 or 2011…. So…
9, 10 or 11
. You must leave loves in this gallery for a minimum of 9, 10 or 11 participants.
THEN
you need to go into another gallery from this month and leave the same amount of loves in it. There are lots of fabulous LO's in the gallery this month and we have all been too busy to leave appropriate comments. I want to see love left for all everyone's hard work! Pick any gallery, but I recommend the Misc. Challenge at the bottom, then select the 2nd Anniversary Challenge and get to gawking at the great LO"s!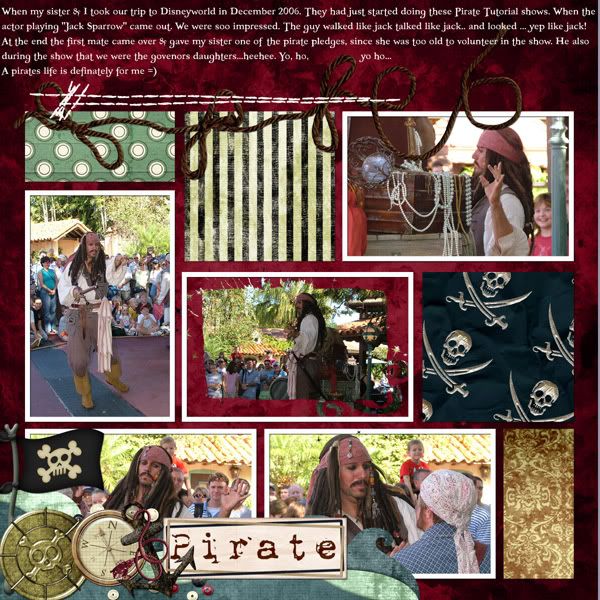 speed scrap #64
Instructions:
#1 Pick any number of photos, but place them in the center of your page.
#2 Make your background in any way you want, but use at least 3 papers.
#3 Add as many elements as you want but put them in a visual triangle shape. See
Tanya's awesome tutorial here
if you don't know what a visual triangle is.
#4 Add some kind of swirl to your page - it can be paper, doodle, sparkle trail, any kind of swirl.
#5 Add some kind of bling to your page - stars, sparkles, pixie dust, metal, anything that blings!
#6 Title your page. (Journal and Date if you want.)
#7 Put a hidden mickey on your page of course!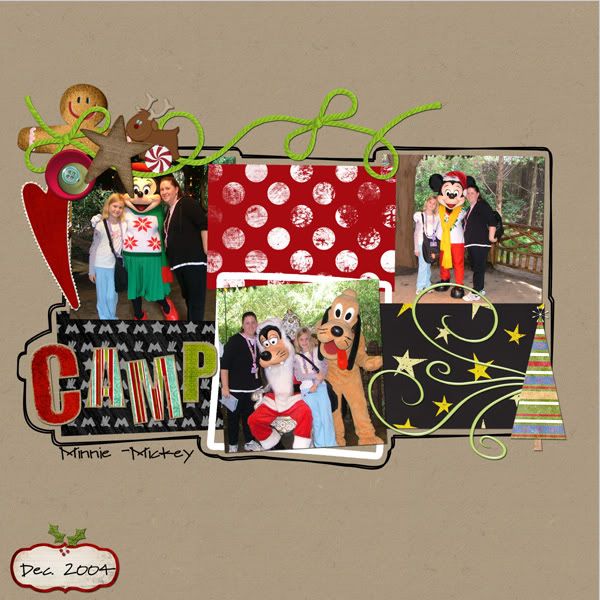 Speed scrap #65
1) Choose at least 2 photos (you can have more if you wish) but you must position them in 2 completely separate locations on your page.
2) Choose 2 predominant colors for your layout, I will allow you to add neutrals to these colors and a pop of one accent color but I want to see lots of your two chosen colors, in your papers in your elements etc. It is ok to use shades of your chosen colors.
3) Choose 2 papers and no more, this includes your background, mats and paper strips.
4) Use 2 frames, 2 scatters, 2 buttons and 2 word tags on your page, they can be the same or different just so long as you have two of each in total.
5) Now chose 2 other types of elements, for example you might choose ribbons, flowers, stars, clips, bows, leaves, stitching, stamps you can use different types of these choices and as many of them as you wish.
6) Now select just two more types of elements that you have not yet used, (most likely these will be your thematic elements, Mickey Heads, balloons, flags, cameras etc elements that are unique to the theme of your layout) these you can use one of them once and the other twice.
7) Now for your title, you must use two different alphas, two words in two different sizes.
Finally make sure you've remembered to shadow everything and add journaling and a date if you wish. Then upload your layout to SpeedScrap Gallery #65, post a link to it here in this thread and a second link to the relevant layout forum that you posted it to as well. Do all this and the participation prize will be yours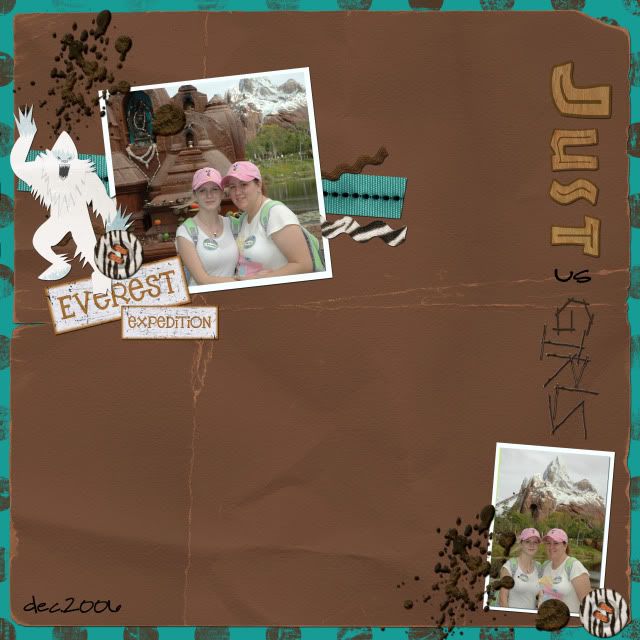 Speed scrap #66
1- Choose 4 pics!
2- Use stacked papers for your BG.
3- Add a banner or some hanging element.
4- Make at least 2 clusters in different places.
5- Use some effect on one of your pics (filters, b/w, sepia etc)
6- Use a font and an alpha for your title.
7- Add the date. Journal if you wish and rock your shadows!!!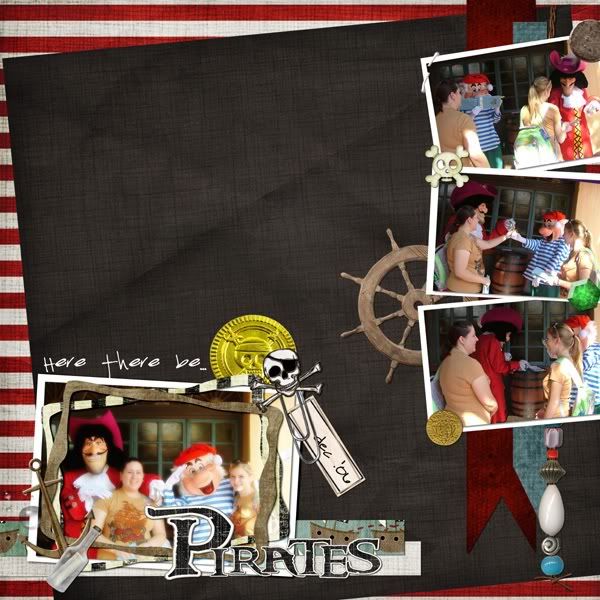 Phew! and here are the 3 layouts I have completed for two of the scraplift and the weekly
scraplift
scraplift
weekly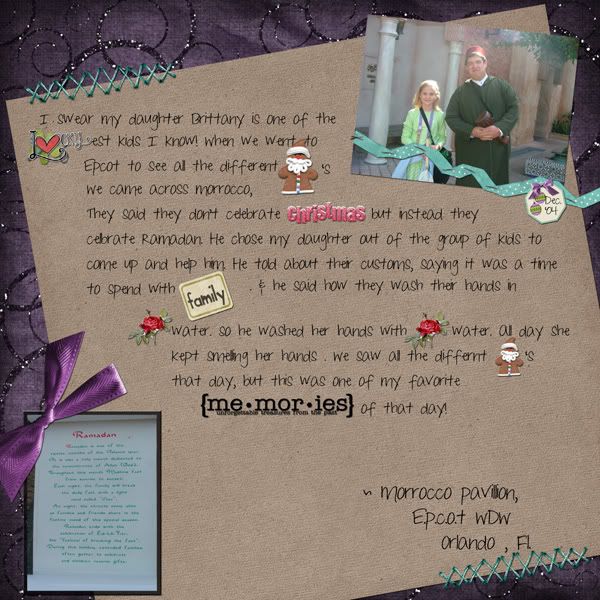 Yep miss Karrie has been a busy girl!
Now on to post this behemoth blog page lol..
Quote of the day!
Flynn Rider
: You smell that? Take a deep breath through the nose.
[
Breathes through nose
]
Flynn Rider
: Really let that seep in. What are you getting? Because to me, that's part man-smell, and the other part is really bad man-smell. I don't know why, but overall it just smells like the color brown. Your thoughts?