We have a halloween party every year out at our house. We live on 40 wooded acres... that make it perfect for a scare trail.
This year the two older kids decided to have a dance type party... so we are having Dance of the Dead.. with the theme true love never dies. Im really excited.
So let me start off by showing you the invites. I got the idea from a halloween forum that I frequent.Theres was for a spell book, but I thought it was such a cute idea I changed it around a little to make it my own....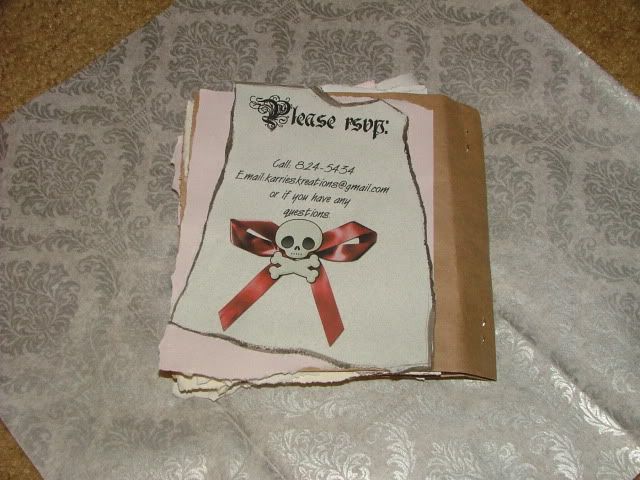 the first page just has the theme on it. 2nd page ... the 33 rules of zombie land(love that movie =) ) 3rd page a couple quotes from monster type love stories, phantom of the opera, corpse bride& dracula 4th page a zombie love graphic 5th page a love spell I found online (its innocent..I swear!) 6th page map to our house 7th page- the actual invite & the 8th page rsvp info
For dakotas party we didnt want to send the littler kids scary invites so I made up these cute invites with scrapbook paper & skeletons & bugs from dollar store
Our colors are red, black & white. Since we are having a dead "prom" we decided to decorate like a prom.
I made 3 flower vases and splattered the flowers with blood for 3 tables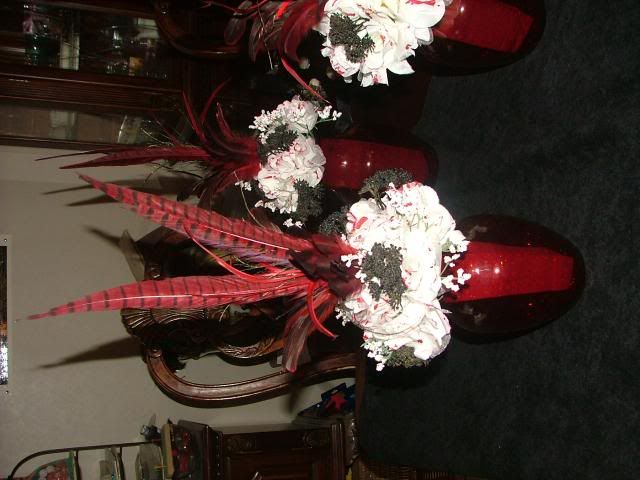 We are going to crown a prom queen and king. I got a really cute box at the dollar store that is black and white to cast votes in. And I got some placement cards in the wedding section to use to vote on. i bought a king crown and a tiara. i took off the jewels, spray painted them black. I gued the jewels back on and added bones to the tiara, and little skulls from a necklace i got at the dollar store to the kings crowns... to make em look halloweeny. I also made a dance of the dead queen 2010 sash and a bouquet with white roses splashed with "blood", and black roses.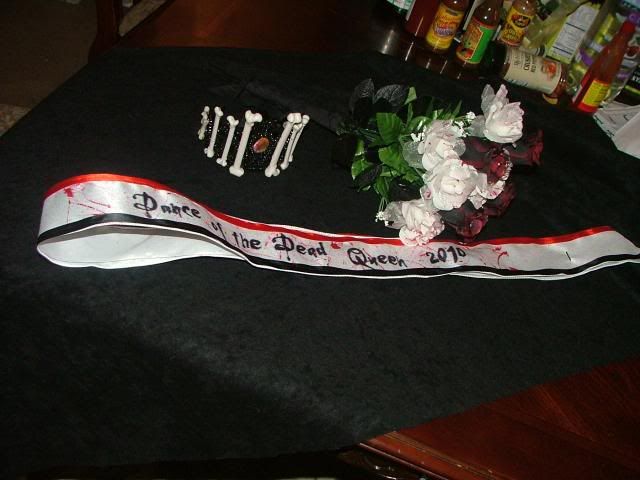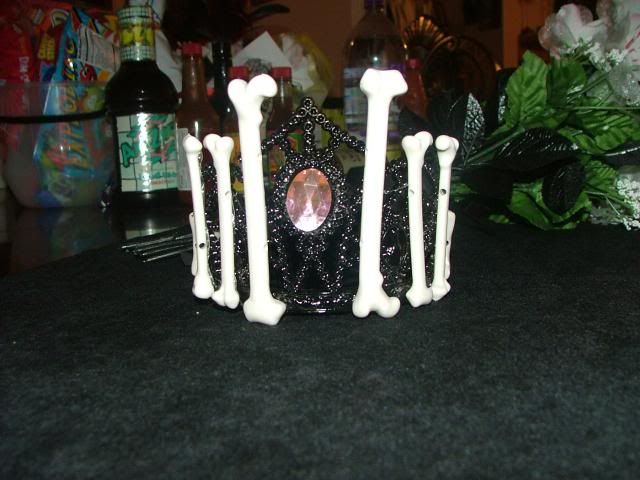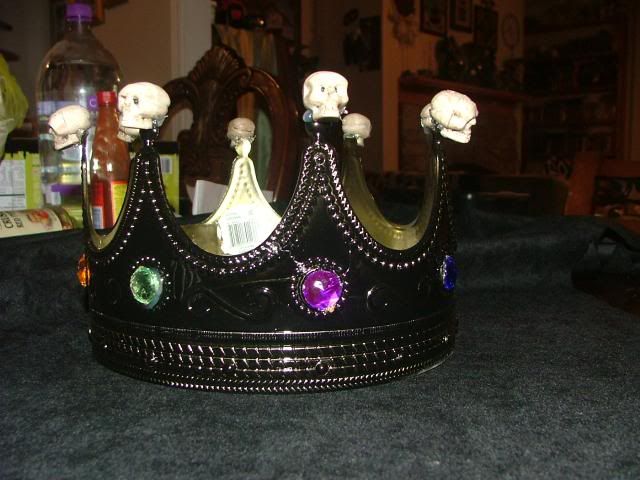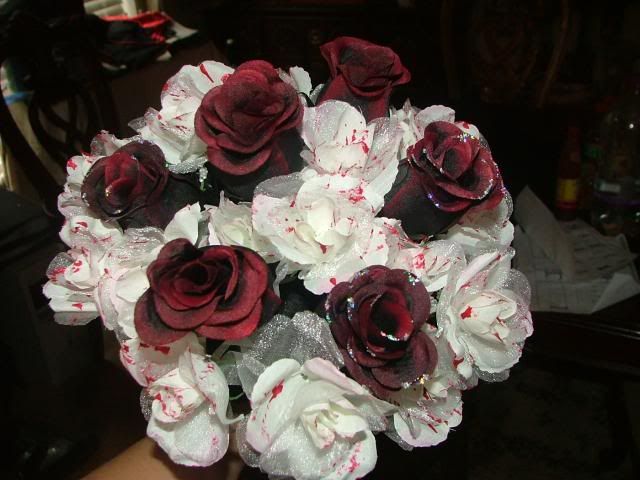 Ive gotten red and black plastic tablecloths from the dollar store, and some of the red rose petals to sprinkle on the tables. I also found these really cute roses that are made of feathers at the dollar store. I got two for each table.
Were also going to have a costume contest. I got some tombstones from the dollar store, and some wood thingys to mount them on. I glued the tombstones on , then spraypainted it all black. Then I painted 1st place, 2nd place, & 3rd place on em. I have some cuter ideas, I might try next year. the dollar store has some smallish type skeletons with glitter on em. someone on the forums made up awards with them, and they turned out really cute.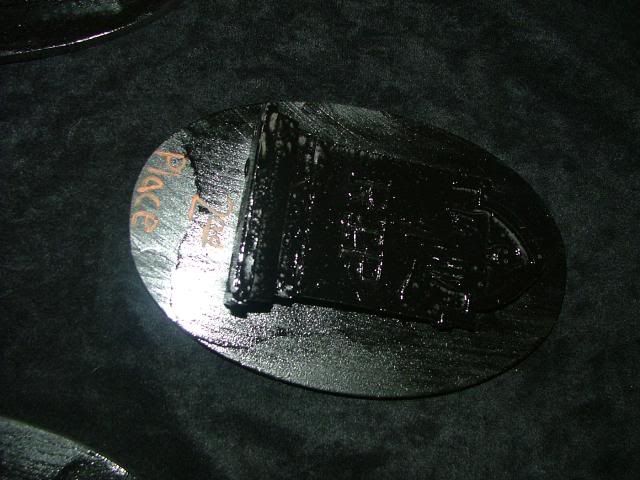 I will post some more when i get more done. Im hoping to go down and start decorating our empty trailor soon. Im also setting up an area for "prom" pictures. Im using red back drop, and I am making a swag type of thing with those black nets you can get at halloween. Im going to place a flower urn on a pedestal. I will post when I finish it.
My daughter was supposed to be the mad hatter for halloween ...so I decided to be the queen of hearts. Being a teenager. she changed her mind. we got her a witch costume from walmart...
But Since I designed my costume and have worked hard at making it...Im still going to be the queen of hearts..=)~ okay childish moment gone.
I have almost all of it done.
I took a wand from the dollar store, I wrapped red and black ribbon around handle part. Glued on heart cards, I added a black and white bow, and put on a heart pendant from the make your own jewerly part in walmart. Then I glued beads to the bottom. I think it turned out cute.
I make top hats... I thought after my daughters mad hatter tea party bday I would never make another one again... guess i was a glutton for more finger pokes lol. I made a velvet top hat. I added red, black and white feathers, a queen of hearts card, a tiara, and a GIANT rose. I love it!
I havent taken pics of the costume yet. I need to put the grommets in, then I will post pics of the costume...
heres some so far....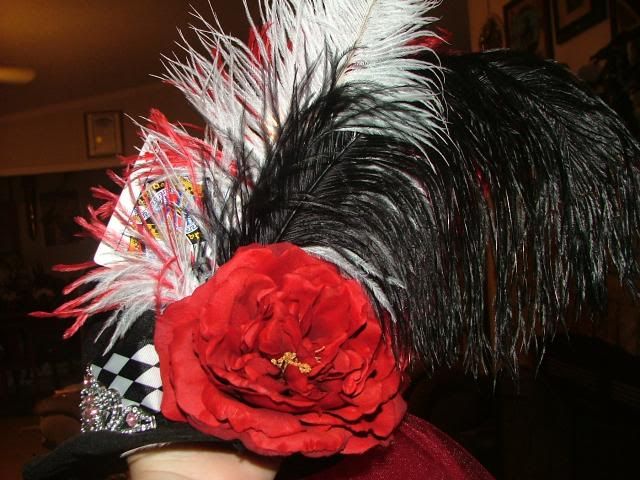 I also started making these really cute string dolls/voodoo dolls. I think next year our theme will be swamp bayou...mwahahaha
Anywho they are really cute. It took me forever to figure out how to do them, but once I started it was pretty easy. I will post pics of them soon too. Kourtney keeps asking me who each one is...
(but I'll never tell ...shhhh!)
Well it is raining and finally looking like fall. I have a ton of stuff to do, and no time. Seems like that is always the case. I really need to get out and see my mom.. I miss her! The kids have been busy with their sports. Riley is now safety and corner on his football team. They have a game thursday night.And kourt was supposed to perform. she doesnt know if they will or not now. But she has dance competion in van buren on saturday and she is SUPER excited about it! Dakota finally got his cast off....long story.
And since Im talking about halloween spooky scary stuff.... the scariest thing of all...Riley got his permit!!!! EEK EEK EEK. I have been letting him drive my car. Im getting a little less nervous everytime. But that first time.. WOW.. I was scared... so mom let me say now how sorry I am for that first time with me .lol.
so he is excited and I am .. scared... nah Im proud of him. He had to take the test 3 times... but finally got it.
okay so until next time...BOO! mwahahahahaha
XOXO
Tink
believing is only the beginning...
Princess Tiana: [She and Naveen are floating above trees by balloons] Voodoo? You mean to tell me all this happened because you were messing with the Shadow Man?
Prince Naveen: He was very charismatic!
Princess Tiana: [groans] It serves me right for wishing on stars. The ONLY way to get what you want in this world is through hard work.
Prince Naveen: Hard work? Why... why would a princess need to work hard?
Princess Tiana: Huh? Oh, I'm not a princess. I'm a waitress.
Prince Naveen: A waitress? Well no wonder the kiss did not work! You lied to me!
Princess Tiana: I - I never said I was a princess.
Prince Naveen: You never said you were a w- a waitress! You were wearing a crown!
Princess Tiana: It was a costume party, you spoiled little rich boy!
Prince Naveen: Oh, oh yes, oh ye-? Well, the egg is on your face, alright, because I do not have any riches!
Princess Tiana: [shocked] What?
Prince Naveen: I am completely broke! Hahaha!
[branches begin popping the balloons]
Prince Naveen: Uh oh...
~ frog & the princess