It's monday & that means...
Another Make it Monday!
and only 4 more days til halloween.
Today I'm sharing with you a couple of halloween decorations .
I was originally going to makeover my a mantel all spookified, but hen I'd have to find a home for all our dragon /medieval stuff on their... maybe next year.
instead I made over a bookshelf lol
Now as this usually begins... One day while i was on pintrest...lol
anyways I found this awesome find...
This was only a picture but couldn't be too hard right.
Here's what you need...
CROCHETED DOILY SPIDER FRAMES
* fram
* old doily
* spider (I found a really cool jeweled one at walmart where I work for a necklace)
-this is super simple. Just place the doily in the frame how you like it. this had no back but I used black card stock to be able to see it better.. I may make some more without a back later. then dab a tiny bit of hot glue on the frame and place your spider... Done!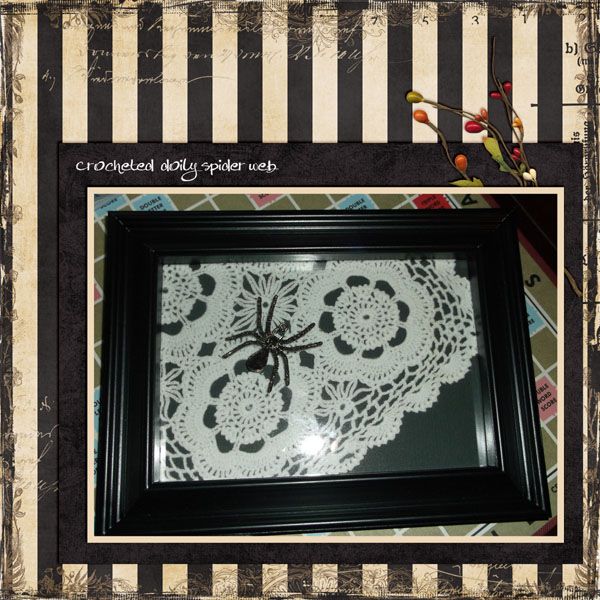 I also found these lil beauties to go with it...
I was going to link this back to the original post but sadly I can't get the blog to load. not sure if it's gone =(
Here's what you need:
*frame ( I got mine from thrift store & much to my husbands despise.. i spray painted it black... he hates when I do that lol)
* black material ( I used a piece of old tshirt but I think I may remake these using maybe crosstitch material or canvas and paint it black to make it stiffer.
*white embroidery thread
- Just embroider a saying.. boo eek onto the middle of the material and place in frame... super simple and fast.
&
Now Im off to catch up on american horror story: coven!
Remember if you make any halloween deco or know of a good blog let me know.
I think im also gonna go raid my halloween candy stash... I love those mini bite size candies!
Happy Craftin Ya'All!
until next week...