Woohoo It's monday... NOT!
But it is make it monday so.. YEAH!
Today I am showing you how I made some leather bracelets.
Im Telling you Pintrest is a baaad place lol.
If you wanna follow me on pintrest, you can find me
here
!
Okay so I saw these on pintrest and had to make some... yes I had to !
You can find these beauties right
HERE
!
to start off gather your supplies
* tools- scissors, pliers,hammer & nail or a leather hole punch, needle, & thread (I used embrodery thread cuz of the colors)
suede leather strips ( i found at hobby lobby) cut into desired length.. I did mine 7 inches
some suede leather cord (i had extra from other projects)
word bands from tim holltz
pony bead or a bead with a big hole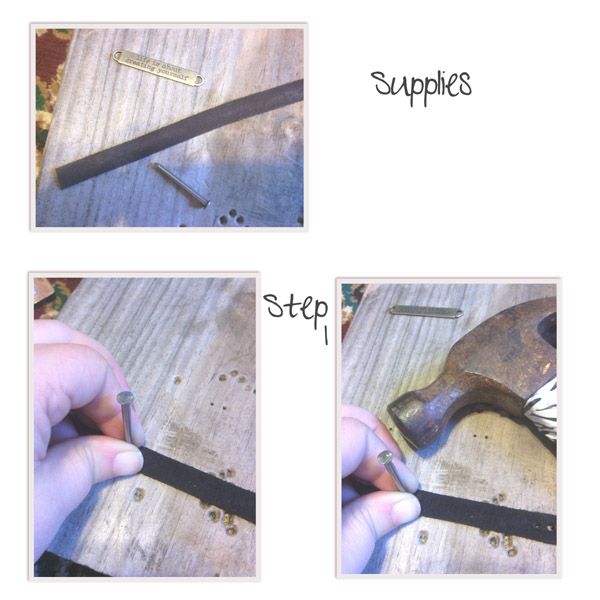 ~1st what i did was cut my leather into 7 inch strips. I had 3 different colors- black brown and cream. I came out with15 strips but only had 12 word bands,
~ then I placed the word bands on the leather centering it, and marked holes- one in center of word band hole and right on the outside of it.
I could not for the life of me find my dang leather hole punch so after researching on the internet I finally grabbed and old board a nail and my hammer. & proceeded to make the holes. Later my brother in law brought his leather punch and it was soo much easier and looked nicer.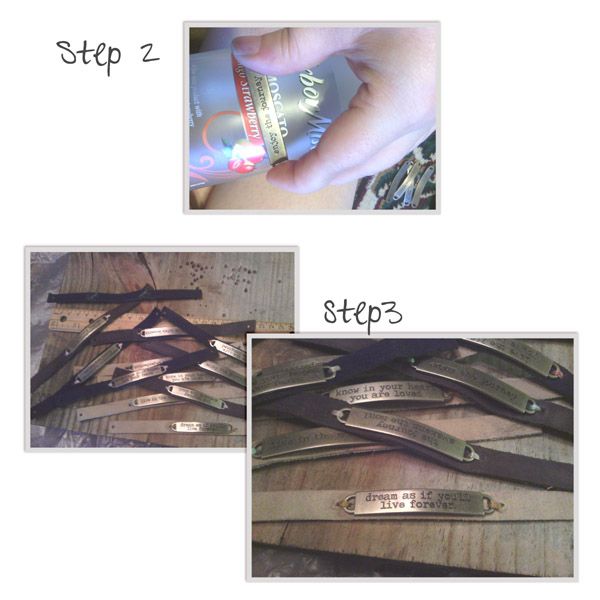 ~ since a bracelet is not flat I had to try to shape these. I have seen on the internet they make a really cool bracelet metal bending plier.. but I don't have one ( hint hint - hubby!) So logically I used a wine bottle. later I did it again with a smaller soup can to get more of a round shape... warning this kills your fingers!
~ then I proceeded to tie the bands on the holes I made, I went through 3 times. made 2 knots in the back , and cut the cord close.. then I used e-6000 glue to make sure it stayed put.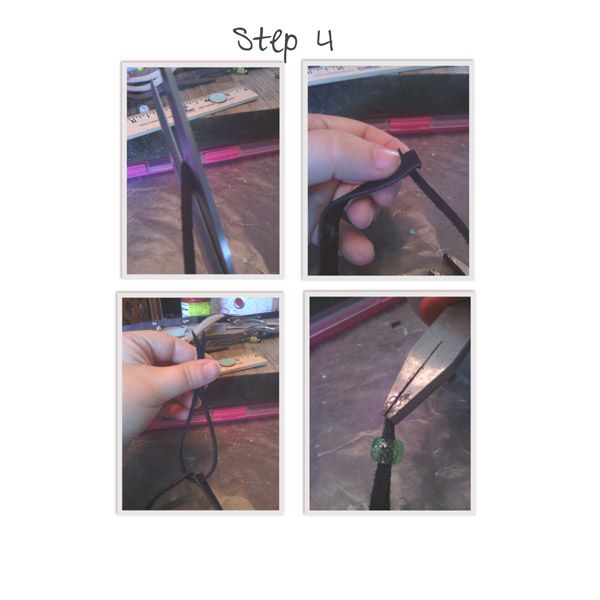 ~after it was dry, I used the hole punch to punch holes close to the edge of the ends.
I cut off about 3 inches of leather cording, & put it through the holes.
Then put on matching ponybeads to the colors I chose for the thread.
I decided to dress mine up a bit so I got out my eye pins some beads and my looper. I made some dangly beads and placed them with o-rings in the holes attacthing word bands.
I gotta say i love these! I really wish I had one of the bending pliers but I still like them!
Enjoy! & If you make any send me a link I would love to see them!