Hope guides me. It is what gets me through the day and especially the night.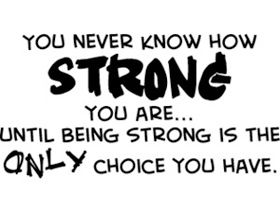 These quotes are all wonderful! And I feel like they matter
...sometimes...
But most days these last ones are more to my own life.
Now don't get me wrong, im not sitting here whining and feeling sorry for myself...
Although there are days I will admit I do , do that. There are days where I will barely complete a task and then I sit down and I take a nap. And then I think man Im being lazy, and Im weak.
At work I'm always doing my best, I try my best not to let anyone know how hard it is sometimes.
and trust me if you'd seen me at work if you didn't know I have cancer , you wouldn't know. As long as Im keeping busy Im fine. I put on a smile and go on with it.
I think what makes me the maddest is before my results came in, I felt fine. The cure is sometimes worse than the symptoms. My heart doctor says my heart is getting worse from the chemo, so we are trying to find a plan that will be okay.
And then I get depressed, then mad, then sad, then scared.I bawl . Im scared to death.
Then after all that I decide that really there is no outher option than to just keep fighting.
And trust me I will!
Im on my 5th week of chemo . This is my 3rd round of uternine and it SUCKS!
My head hurts all the time, my legs my muscles, my stomache . im weak , im tired
So I made a little scrap layout...
I know I have some of the best friends and family and they are all there for me, but sometimes I feel like Im always whining, and they don't need to be dealing with it to. And I know thats not the case but I feel like I should be reassuring them... make sense?
One of my amazing designers made a kit for cancer but it wasnt for breast cancer... it was for uterine and cervical... and I was in love. Thank you sooo much Jenn! You hear all the time about breast cancer but not much about the others, you can find all sorts of pink and "fight like a girl stuff". so I was
so pleased to see this kit...
And I also knew exactly what I would do with it...
So I guess for today Im going to vent.. and hope my gaurdian angel is on overtimes...
Im going to get ready for work.. and go kill it there!
Come home drink some great cocoa or tea.. and just hakuna matata!
and remember to always have hope...
Have a great day Ya'all!